Shameless
by Nina Lemay

Girls like me don't get happy endings.

I know what I am. At worst a cliché, at best a cautionary tale. I put an international border between me and my past, only to wind up working in a low-end titty bar. Even my excuse is as lame as it gets: I'm paying for college, getting my art degree from Montreal's most prestigious school. Although some days it becomes confusing: am I just a student who moonlights as a stripper, or a stripper who masquerades as a student?

But the inevitable happens and my two lives collide. And now there's one other person who knows both the quiet, antisocial Hannah and the sensual, shameless Alicia. One person who keeps my secret.

He's beautiful, he's sophisticated. He comes from the other side of life, the one where I'm not wanted or accepted. But he calls me la petite Américaine, and his hot, hot hands on my skin promise me things I long ago gave up on.

The problem? He teaches my Classic Photography class.
This is a standalone novel, no series, no cliffhanger.
BUY THE BOOK:
THE REVIEW
That cover help my choice to read this book, it is beautiful and has a very good design work, looks like a candy which one must acquire, which could also describe perfectamene our protagonist. The other part was the synopsis, was not quite a sweet story but had the sound in my head Oh! this should be good and interesting.
I liked it, there is a curious mixture of characters, photography classes and art are on stage at a party in another a very different world, where you can learn more in depth the layers of our main characters. Among them we have to Hanna, the heroine of this book, a girl who has past experiences that make you feel insecure, but I try to put aside to become an independent and strong alter ego to work to help pay for your studies university, she's a stripper.
On the other hand we have Emmanuel, a boy who comes as a regular customer in the workplace Hanna, the fate is clear, he is the trigger or the icing on the cake for the beginning of this story, he is Professor of Hanna photography as both discover that they are student and teacher, began a story of push and pull very well maintained.
Hanna , I like it, maybe at times I needed to shake her, but sometimes she gave me many surprises and as Emmanuel was a nice guy, I would have liked more depth in, but I think that is contrarestaba when he and Hanna were together, because sometimes he was the one that most clearly meet Hanna that  the rest.
This book had no end of feelings that are clearly reflected. Maybe in some parts gave occasional round that was not necessary but the author manages to leap to keep you interested in, as well as many surprises as to his writing, and also lets add that demonstrate the likes of the author and is in good part because many people could identify with, and know that it is aimed lines the author.
It really is a new author for me I'd like to keep an eye on your progress in writing and stories that could create and give in the near future.
If you want to start with something sweet, firm and hardness can kick you from time to time, this is the right book for you.
4 Stars!
About the Author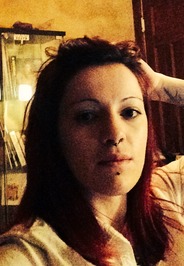 Nina Lemay is a YA writer by day and author of sinfully twisted New Adult…well, also by day. She loves all things dark and edgy and never tires of tormenting her characters. While Nina is a fan of all things scary, Gothic, and fantastic, she doesn't shy away from a gritty contemporary romance when the muse strikes. She lives in Montreal, a city that never fails to inspire, with her partner and her dog.
** ARC of this novel by the author and: **